Your sales spreadsheet system is working just fine. After all, your sales data is all organized in Excel right now. Changing now would be like flying blind. How do you know it is going to work? What if you lose all your notes?
I've been there as a salesperson. The idea of switching your sales spreadsheet is daunting. You may fear lost sales productivity. You may fear a painful learning curve.
However, you also know you should cross the spreadsheet-to-CRM chasm. Sales spreadsheets are an undeniably outdated way to track your sales leads and create an accurate sales pipeline. Meanwhile, a sales CRM platform will allow you to
get an overview of your current deals,
pinpoint deals you must work to close,
make sure deals don't fall through the cracks, and
automate tasks like outreach, follow-up, and lead qualification.
Sales Spreadsheets Don't Scale
Despite the potential advantages, some sales teams are still slow to adopt or use CRM. Our own Pipedrive survey of 1,636 sales professionals, both first-time and existing users of CRM, says the biggest barrier to adopting CRM is a preference for those pesky Excel spreadsheets to track sales (26 percent).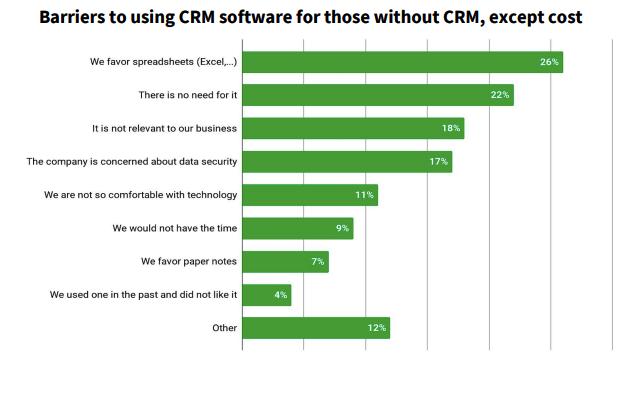 Pipedrive also conducted in-depth interviews with 260 sales professionals who use CRM software and found that more than half (56 percent) were first-time users of CRM. Our First-Time CRM Users Report also found that, of these initial CRM users, 55 percent switched from using spreadsheets; 21 percent reported they had been using nothing; and 16 percent were using pen or paper.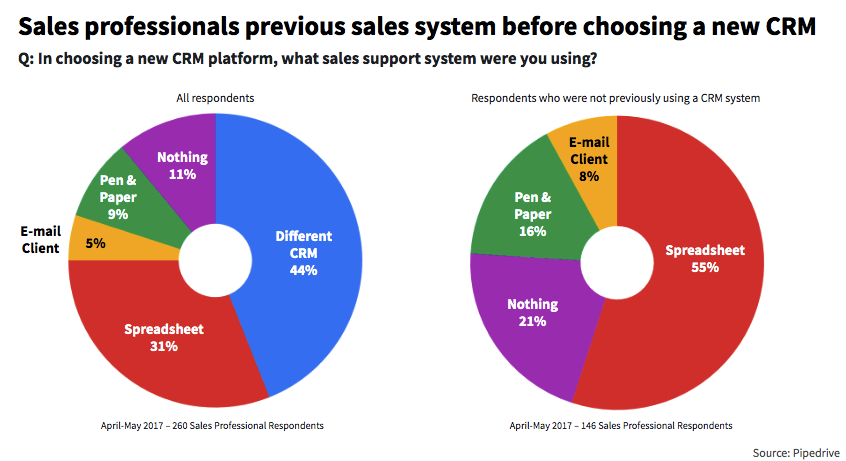 As handy as spreadsheets can be, the slightest mistake in a formula messes up all your data; and, if you freeze too many rows, data is unreadable. Follow-up actions and the ability to advance your prospects through a pipeline to a closed customer is not what spreadsheets were designed for. Spreadsheets don't scale – they're not suitable for collaboration and they don't allow you to track sales performance accurately. Nothing about spreadsheets makes sales a certainly.
Key Benefits of Adopting a CRM System
Why do sales teams decide to adopt CRM? Our research indicates the following reasons: to improve sales productivity (41 percent); get organized (37 percent); gather customer information (35 percent); and share information with the sales team (35 percent).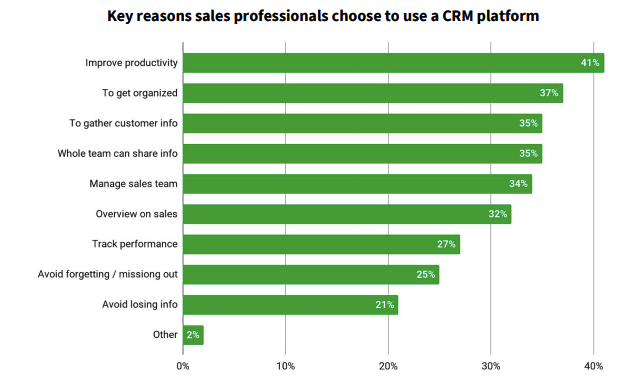 As technology advances, anyone using CRM instead of sales spreadsheets will benefit. Right now, sales CRM platforms are integrating artificial intelligence (AI) that can continually gather data on deals and sales activities, and prompt salespeople to take the "next best" action to move the hottest deals forward. It is essentially a "super" sales assistant.
If you don't move to a sales CRM system now, chances are that you will not optimize your own abilities and leave money on the table. The value features are certain to increase productivity at prospecting and close deals faster.
If you continue to use spreadsheets, the loss may be your own sales potential.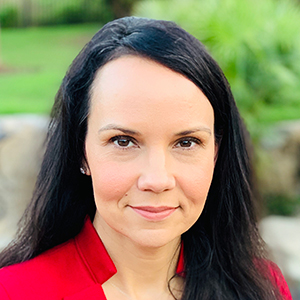 Tara Bryant is the SVP of sales at Pipedrive. Connect with her on LinkedIn.