A great sales onboarding program is like filling an empty gas tank in your car; it's the fuel that makes reps take off. Just as a luxury vehicle needs premium gasoline to run well, a top-of-the-line rep also requires top-notch training and support – from the get-go.
A solid onboarding program is the best way to get new hires started on the right foot, accelerate their productivity, and put the pedal to the metal when it comes to delivering value to buyers.
Yet 62 percent of businesses describe their sales onboarding programs as ineffective, according to the Sales Management Association – meaning they're gambling on their reputation as they send unprepared reps out in the field, where they often end up making rookie mistakes in meetings with unsuspecting buyers.
Onboarding can't be slapdash or even cookie-cutter. Ideally, it should be engineered to prepare reps for the activities they'll undertake – and be tailored to the individual's role and experience.
Here are five tips to make your sales onboarding program a smooth journey.
#1 – Incorporate Multiple Learning Formats
You wouldn't listen to a single song over and over again during an entire road trip, right? For sales onboarding, vary your learning methods and materials, too. Companies should abandon the drink-from-the-firehose, death-by-PowerPoint® boot camp approach, and include a mix of relevant eLearning modules, live presentations, practice, role play, and coaching opportunities within the onboarding curriculum. Opportunities for reinforcement (via bite-sized videos, quizzes, practice with peers, etc.) should follow to drive retention. Learning should also be accessible on the go, formatted for mobile consumption.
#2 – Get Agile with It
Road trips change based on what's in front of you – if one street is closed, you take another. In the same vein, you can use agile onboarding to prepare reps for what's right in front of them – so they'll master knowledge and skills that are relevant to the interaction or activity ahead. Then they can move on to developing the next key skills, mapped out to prepare them for their next key milestone. For example, let's say a new rep will soon conduct a demo call. That rep's onboarding program would focus on communication skills and product particulars in the near term, with training and certification to drive readiness in those areas.
Agile onboarding borrows its name and structure from the principles of agile software development – responsiveness, collaboration, ability to make quick course corrections, etc.
#3 – Look beyond Learning Consumption
Sure, new drivers may be able to pass a written driver's exam. But, to receive a license, they need to go out on the road and pass a road test that assesses their skills in action and their ability to adapt to changing conditions.
It's the same when measuring onboarding and training success; you can't take a limited, check-the-box approach. Too many companies measure only content consumption – in effect, equating viewing a video or reading a guide with mastering the material. (This is flawed logic, of course.)
And, while passing a written or online quiz on the material provides another layer of knowledge checks, this still often isn't enough. You can't know whether people have internalized information unless you see them in action. Role plays, live presentations, and video coaching tools (where a rep sends in a video for evaluation) can be used to assess readiness – so you know reps are confident and competent before they interact with buyers.
At Brainshark, our reps "graduate" from our onboarding program after completing a live assessment with our executive team. Each rep receives a scenario to address, and must position our products in a way that fits the situation and hypothetical customer (portrayed by the execs).
#4 – Foster Peer Learning
It's important to model for new hires what "good" looks like – so, when they're in the driver's seat, they know how to react. Rather than learning just from superiors, reps often appreciate opportunities to absorb tales, best practices, and knowledge from their peers in the field – whose success they want to emulate.
It's important to include these elements in an onboarding curriculum – asking more tenured reps to share best practices and stories (e.g., "How I reignited interest with a prospect who went dark") via video. The best examples can be put in a central repository, shared through your sales readiness platform, and incorporated into formal onboarding courses.
#5 – Make Resources Available Anytime, Anywhere
To equip reps for success during onboarding and beyond, it's important that they have "just-in-time" access to the learning content and sales materials they need. Whether they'll be engaging in preliminary research, conducting a discovery call, doing a demo, or simply completing a training or coaching assignment, they need relevant materials that map to the target activity, subject matter, industry, and more.
By tagging items and adding filters to make content more easily searchable, you can steer reps to success – giving them access to what they need right when they need it. It's also important to format content for easy mobile consumption and make it readily available through a central readiness platform, email, and the CRM – that is, the systems reps use every day.
Don't Go on Autopilot with Sales Onboarding
A strong sales onboarding program requires attention, measurement, a feedback loop, and tweaks to keep reps engaged, set them on a path for continuous learning, and expedite time to productivity. With these tips, organizations can put their reps on the road to success – and start to put productivity gaps in the rearview mirror!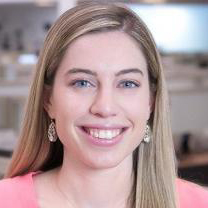 Lauren Boutwell is senior content and programs manager at Brainshark, a leader in sales enablement and readiness solutions. Brainshark equips businesses with the training, coaching, and content needed to prepare salespeople when, where, and how they work.